email us:
info@polar-recruitment.com

call us now: +44 (0) 23 8000 1179
Tailoring your skills
" Polar has proved to be a 'one stop shop' for our recruitment needs "

Thomas Davidson, CEO

" Polar always delivers when it comes to bespoke recruitment "

Harry Cleverly, MD

" Informative staff keep you up to date every step of the way "

Sarah Dingham, CEO
When searching for a job it is not uncommon to be overwhelmed by the array of vacant positions in front of you which can often result in selecting a job that is not suited to your skills, but is also unlikely to provide you with the opportunities to further your career in the future.

By thoroughly assessing your previous education, training and experience, Polar Recruitment is confident that we will match your skills and expectations to the right position. We understand that every candidate is different with your own ambitions in life, and we will endeavour to meet those by selecting the right jobs for you.

You can view the current job vacancies that are listed with Polar Recruitment here, while we also provide useful links and resources that could boost your employment prospects.
Alternatively, please call us on 02380 001179 to speak to a consultant or email us to find out how we can help you develop your career.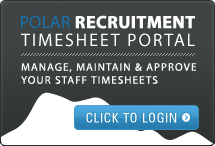 Useful Links

Example Invoice

Contractor Handbook

Interview Tips

Client Brochure

Screening & Checking Services
Resources

REC

LinkedIn