email us:
info@polar-recruitment.com

call us now: +44 (0) 23 8000 1179
Fulfilling Your Potential
" Polar has proved to be a 'one stop shop' for our recruitment needs "

Thomas Davidson, CEO

" Polar always delivers when it comes to bespoke recruitment "

Harry Cleverly, MD

" Informative staff keep you up to date every step of the way "

Sarah Dingham, CEO
Whether you're currently contracting through Polar Recruitment, contracting elsewhere, or simply thinking about becoming a contractor, Polar Recruitment has the resources to meet your needs.

We regularly update our job postings
here
for you to look at and apply for, and in addition you can submit your CV here so we can inform you when a suitable vacancy becomes available.
Polar Recruitment understands that working on different sites can mean a lot of moving around, and inevitably timesheets / time management can become difficult. Polar Recruitment is proud to operate a bespoke online time sheet portal allowing for online management, submission, and authorisation of time worked, it couldn't be simpler.

If you feel that we can be of benefit to you, please call us on 02380 001179 to speak to a consultant, or alternatively email us to find out how we can help you develop your career.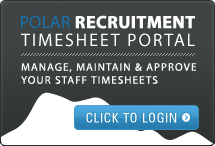 Useful Links

Example Invoice

Contractor Handbook

Interview Tips

Client Brochure

Screening & Checking Services
Resources

REC

LinkedIn