email us:
info@polar-recruitment.com

call us now: +44 (0) 23 8000 1179
Providing The Right Recruit
" Polar has proved to be a 'one stop shop' for our recruitment needs "

Thomas Davidson, CEO

" Polar always delivers when it comes to bespoke recruitment "

Harry Cleverly, MD

" Informative staff keep you up to date every step of the way "

Sarah Dingham, CEO
Recruiting that perfect employee that fits your business model and possesses the required skills and experience to meet your demands can prove to be a major headache. Indeed, it can often take five or more candidates to find that ideal one, but Polar Recruitment are confident in our ability to get it right first time.
The Recruit
We find out everything about our candidates to ensure that we match their skills and personalities with what you expect, providing a service that is second to none.
With an underlying belief that value of service is paramount, we will ensure that your relationship with us is as straight forward as possible as we offer a personalised service, providing you with a single point of contact so we can understand all your recruitment needs.
Polar Recruitment can supply contingent or permanent employees as well as a fully managed service depending on your company's individual circumstances, and specialising in IT, defence and telecommunications, we can offer ongoing solutions that you will want to return to time and time again.
Contingent

Temporary staff can often be a source of frustration as a result of the demands that managing timesheets, budgets, niche skills, insurance and liabilities can bring. Polar Recruitment can provide PAYE options to all temporary workers and will ensure that they are fully managed as required, providing you with a complete peace of mind.
Permanent

When recruiting permanent resources, it is paramount to ensure that they hold all the required skills without compromise. Polar Recruitment simplifies this process for you as we only provide the CVs that match what you are specifically looking for, whilst not bombarding you with any more than three CVs at any one time unless requested to do so. We manage the entire search and selection process and have access to 'hard to find' candidates, such as security cleared personnel.
Managed Service

Sometimes, it is easier to hand over recruitment to the professionals. Whether your company lacks the time, money, knowledge, or resources, Polar Recruitment can help. We can manage all your requirements by liaising with your business on a personal level, either with an onsite presence or remotely - whichever suits you best. All advertising campaigns, referencing, short listing, skills testing and much more can also be undertaken by Polar Recruitment for your benefit.
Whichever of our services you would like to utilise please call us on 02380 001179 to speak to a consultant, or alternatively email us to find out how we can help your business today.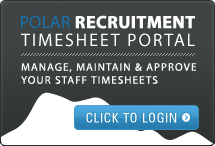 Useful Links

Example Invoice

Contractor Handbook

Interview Tips

Client Brochure

Screening & Checking Services
Resources

REC

LinkedIn